Read Time:
2 Minute, 39 Second
Aloe vera is a versatile and widely-used succulent plant known for its numerous health and skincare benefits. Here are some of the key advantages of using aloe vera:
Skin Care: Aloe vera is celebrated for its moisturizing properties. It's commonly used to soothe and hydrate dry or sunburned skin. The gel inside the aloe vera leaves can be applied topically to alleviate various skin issues, including burns, rashes, and insect bites.
Healing Properties: Aloe vera has natural healing properties that promote tissue repair. It can aid in the healing of wounds, minor cuts, and acne scars. The gel can be applied directly to the affected area to accelerate the healing process.
Anti-Inflammatory: Aloe vera has anti-inflammatory properties that can help reduce skin inflammation. It's often used to alleviate skin conditions like psoriasis and eczema.
Hair Care: Aloe vera is beneficial for the hair and scalp. It can help reduce dandruff, promote hair growth, and improve the overall health and shine of your hair. Aloe vera gel can be mixed with shampoo or applied directly to the scalp.
Digestive Aid: When consumed internally, aloe vera juice or gel can support digestive health. It can help relieve symptoms of indigestion, constipation, and acid reflux. However, it should be consumed in moderation and with caution, as excessive consumption may have laxative effects.
Oral Health: Aloe vera can be used as a natural mouthwash to promote oral hygiene. It can help combat bad breath and reduce gum inflammation.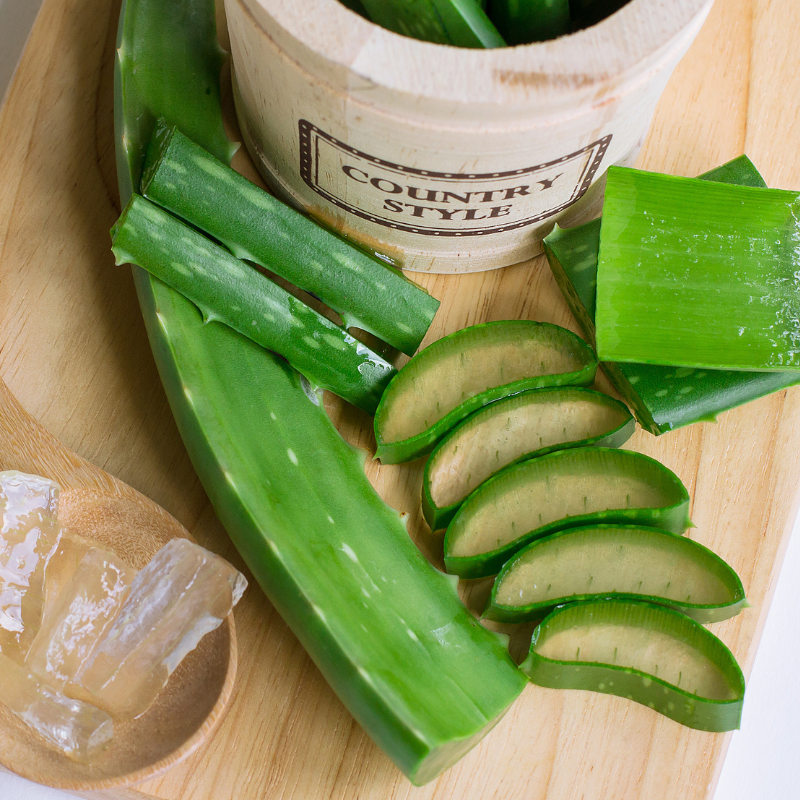 Taking Care of Your Aloe Vera Plants:
Aloe vera is a low-maintenance plant that thrives with minimal care. Here are some tips to ensure the well-being of your aloe vera:
Light: Aloe vera plants require bright, indirect sunlight. Place them near a sunny window where they receive plenty of natural light. However, avoid direct sunlight, as it can scorch the leaves.
Temperature: Aloe vera prefers temperatures between 15°C to 25°C. It can tolerate cooler temperatures but should be protected from frost.
Pot and Soil: Plant aloe vera in well-draining cactus or succulent soil mix. Ensure the pot has drainage holes to prevent waterlogging, which can lead to root rot.
Watering: Aloe vera is drought-tolerant and doesn't require frequent watering. Allow the soil to dry out completely between waterings. Water sparingly, usually every 2-3 weeks, depending on environmental conditions.
Pruning: Occasionally, trim off any damaged or dead leaves at the base of the plant. This not only improves the plant's appearance but also encourages new growth.
Repotting: Aloe vera generally doesn't need frequent repotting. Repot when the plant becomes root-bound or outgrows its current pot.
Pests: Aloe vera is relatively resistant to pests, but occasionally, mealybugs or aphids may infest the plant. Remove them by gently wiping the leaves with a cloth soaked in soapy water.
Harvesting: To use aloe vera gel, cut a mature leaf from the plant, slice it open, and scoop out the gel with a spoon. Be careful not to damage the plant while harvesting.
By following these simple care instructions, you can enjoy the benefits of aloe vera while maintaining healthy and thriving aloe vera plants in your home.